Website Modules - Staff Table
To add a Staff Page to your website, select Staff Table from the Modules Dropdown within the Page editor.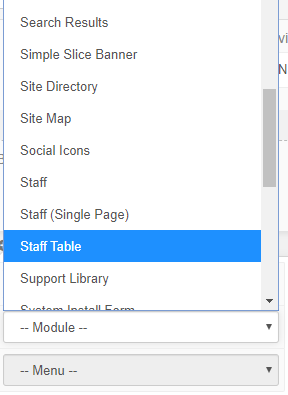 The new dialog box will open.

Staff CRM List: This is a CRM List that contains all the staff members which will be displayed by the module.
Staff Per Row: This is how many records will appear on your website per row.
Placeholder Image: If you would like to provide a placeholder image, this will take place for any record that does not have its own image.
The name and photo as set in the CRM Record will display. Once clicked by the end user, it will bring them to another page, where their bio will display, as set in the CRM record.
When you are finished adding fields, press the OK button to save.
To learn about setting up your staff list within your CRM, click here.
Have an additional question about any of the tools that you answered? Submit it here, and we will be in contact to help you!