Add a Google Map to your Website
When customers are looking for your location, a map can be a helpful tool to finding your business. A Google Map can be added to your website with a few steps.
First, go to maps.google.com and type in your business address.
Once your address displays on the map, click on the

button. A new window will open.
Click on

to open the options for embedding a map on your website. Then, use the size dropdown to chose what size you would like the map to be. Once you have chose, click on

to copy the html content needed to embed the map to your website.
Now, in yout toolset, go to Content > Website Pages.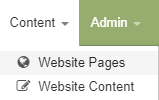 Chose the page you wish to add the map to from the list.
When the page opens, click on
at the top, right-hand corner of the screen.

Find the area that you want the map to be placed in, and click on the

and the html content editor will open.
Click on
to open the html source code. This is where you will paste the map embed code in. Click save on the html content and on the overall page. The map will be live to your page.
Have an additional question about any of the tools that you answered? Submit it here, and we will be in contact to help you!