Food & Services Menu
While the Food & Services Menu is a website content tool, you will utilize your CRM in order to add and edit any menu items. Go to Food Menu Items in your CRM to begin.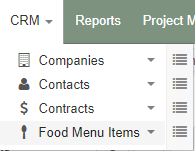 Chose the menu that you wish to work in and it will appear as a CRM list.

You can choose to add a new item by clicking
or edit an existing item by clicking on the
button located next to the item number.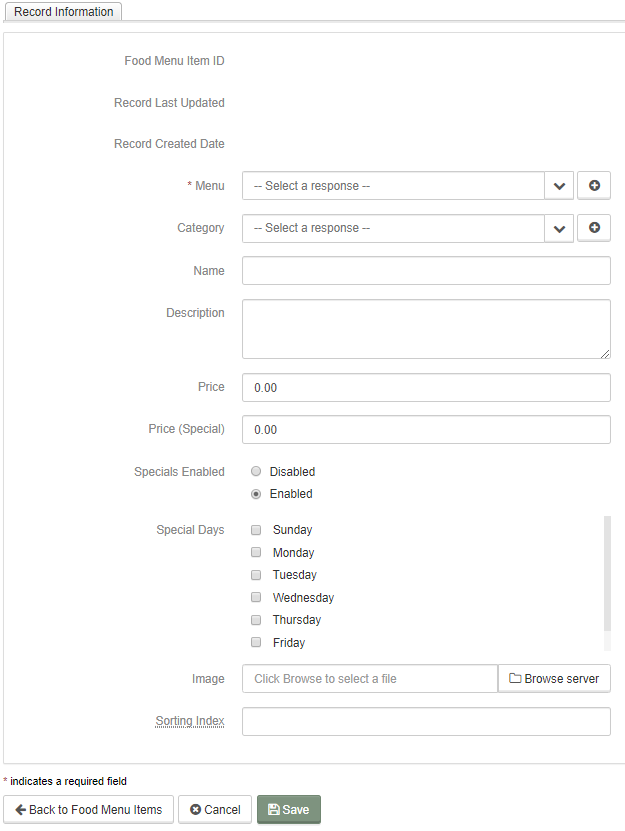 Food Menu Item ID: This is the Item ID number for CRM record keeping purposes.
Record Last Updated: This date field is autofilled each time the record is updated.
Record Created Date: This is the date the item was created in the CRM.
Menu: Choose from this dropdown to place the item in a specific menu in your CRM.
Category: This is the submenu within the website menu were your item belongs.
Name: The name of your item or service.
Description: A short detailed description of what is included with the item or service.
Price: The regular menu price for the item or service.
Price (Specials): If your item is on specials this is what the cost would be.
Specials Enabled: Check this to enable the specials tool for your menu.
Special Days: Check the days of the week your item is on sale. (This will autopopulate the specials menus if you choose to email them to your customers.)
Image: The option for an image is here. Any image uploaded will appear on the website.
Sorting Index: If you want your items or services in a specific order, use this space to number the item.
Click Save when you are completed, and the item will appear on your website menu,
Have an additional question about any of the tools that you answered? Submit it here, and we will be in contact to help you!