Opt-outs
Opt-out records prevent e-mail addresses from recieving any marketing deployment of the associated type, or all marketing deployments if it is a global opt-out. An opt-out can be created by the owner of the e-mail address via your system's public unsubscribe page, or manually via this interface. All mass e-mail senders are required to have this functionality available to their recipients as per the CAN-SPAM Act of 2003.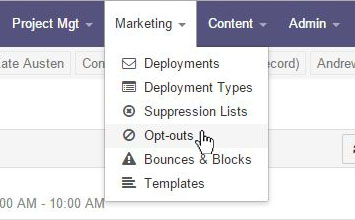 New opt-out records can be manually entered into the system by clicking the New Opt-out button.


A dialog box will open. A valid e-mail address must be provided to create a new opt-out. Duplicate opt-out records will be automatically removed as needed by the system. In addition to the e-mail address, you must specify what deployment types to unsubscribe the e-mail address from. Or you can select Global Opt-out to cause the e-mail address to be unsubscribed from ALL marketing deployments.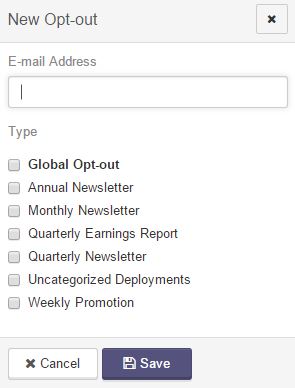 System administrator level users may delete opt-out records from the system by clicking the record's delete button. Before doing so, make sure that you have the consent of the e-mail address's owner in order to comply with the CAN-SPAM Act.
Have an additional question about any of the tools that you answered? Submit it here, and we will be in contact to help you!